Jack Healey, MD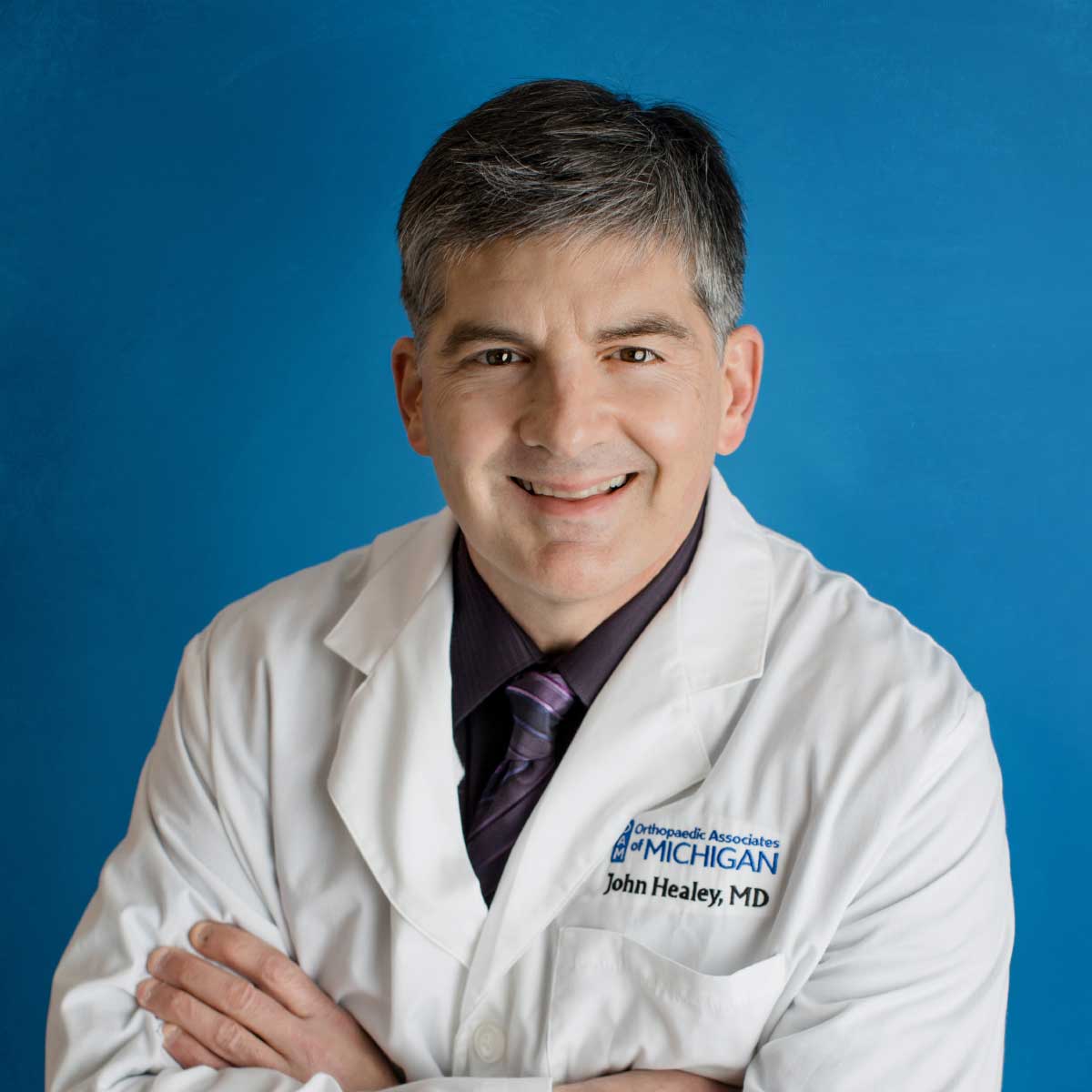 Dr. Healey's own love of playing sports fuels his desire to treat and help return injured weekend warriors and athletes to the activities they are passionate about. As he was about to complete his internal medicine training at the Naval Hospital in San Diego, a rotation in orthopedics gave him the opportunity to "snap" a few wrist fractures back into place. He was hooked and changed the course of his medical career.
It can be difficult to see the devastating consequences of injury and the recovery from any necessary surgery. However, there is no greater reward for a surgeon than to see his patients recover, strive for their goals, and achieve their dreams.
Dr. Healey looks forward to helping you with the same enthusiasm whether you are a competitive player or a person whose love is tending a garden or walking your dog.
Dr. Healey pursued his medical training at Georgetown University with a full medical school scholarship from the United States Navy. He has served as assistant physician for the MLB Houston Astros, the NBA Houston Rockets, the University of Houston football team, and has served as the orthopedic team physician for Grand Valley State University since 1998. He has had a lifelong passion for playing all sports. Despite having hip surgery himself  and diminishing skills, he still plays men's league hockey and slogs through a few 5Ks a year. With three children, Dr. Healey and his wife now spend more time taking their kids to hockey, baseball, football, track, cross-country, cheer, and horseback riding activities.
Specialties
Sports Medicine
Arthroscopy
Trauma
Shoulder/Elbow
Hip
Hospital Affiliations
OAM Surgery Center at MidTowne
Trinity Health Saint Mary's
Southwest Surgical Center
Background and Education
Undergraduate, Magna Cum Laude, Providence College, Providence, RI, 1983
MD, Georgetown University School of Medicine, Washington, DC, 1987
Internal Medicine Internship, Naval Hospital San Diego, San Diego, CA, 1988
U.S. Navy Flight Surgeon Program, Naval Aerospace Medicine Institute, Pensacola, FL, 1989
Grand Rapids Orthopedic Surgery Residency Program, Grand Rapids, MI, 1992–1997
Fellowship, Sports Medicine, Baylor Sport Medicine Institute, Houston, TX, 1998
Professional Affiliations
Diplomate, National Board of Medical Examiners
Clinical Assistant Professor, Michigan State University College of Human Medicine
Board Certified Member, American Academy of Orthopedic Surgeons
Member, American Orthopedic Society for Sports Medicine
Member, International Society for Hip Arthroscopy
Member, Michigan Orthopedic Society
Member, Kent County Medical Society
Community Affiliations
Orthopedic Team Physician, Grand Valley State University, 1998–present
Local Orthopedic Consultant, Senior PGA Tour, 2000-2004
T-Ball Coach Extraordinaire, East Grand Rapids Recreation Department, 2005