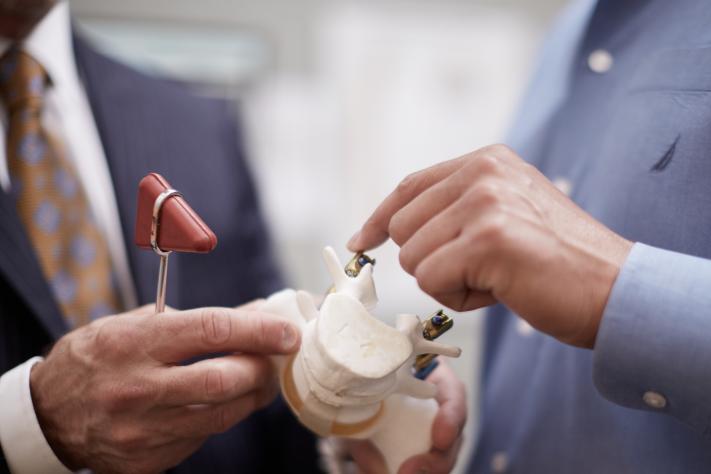 As the largest group of fellowship-trained spine surgeons in West Michigan, the experts at OAM are national leaders in musculoskeletal health and wellness. Our care spans all spinal conditions – from spine trauma to scoliosis – and works side-by-side with therapy as part of our comprehensive approach.
Adult Scoliosis Diagnosis & Treatment
Anterior and Posterior Scoliosis Surgery
Anterior Cervical Discectomy with Fusion (ACDF)
Balloon Kyphoplasty
Cervical Artificial Disc Arthroplasty
Cervical Corpectomy
Cervical Foraminotomy
Cervical Laminectomy
Cervical Spinal Stenosis
Cervical, Thoracic, and Lumbar Epidural Steroid Injections for Nerve Root Compression
Direct Lateral Interbody Fusion (DLIF)
Electromyography
Extreme Lateral Interbody Fusion (XLIF)
Facet Joint Injections
Interspinous Process Decompression X-Stop
Intraoperative Nerve Monitoring
Lumbar Corpectomy and Fusion
Lumbar Decompression
Lumbar Decompression Surgery with iO-Flex
Lumbar Epidural Steroid Injections
Lumbar Laminectomy
Minimally Invasive Lumbar Discectomy
Minimally Invasive Lumbar Micro-Decompression
Minimally Invasive Transforaminal Lumbar Interbody Fusion (TLIF)
Pediatric Idiopathic Scoliosis Diagnosis and Treatment
Pediatric Scoliosis Diagnosis and Treatment
Posterior Lumbar Interbody Fusion (PLIF)
Posterolateral Lumbar Fusion
Sacroiliac (SI) Joint Fusion
Scoliosis Bracing
Scoliosis Symptoms, Diagnosis, and Treatment
Spinal Fusion
Spinal-Cord Stimulator Implants
Total Disc Replacement
Transforaminal Lumbar Interbody Fusion (TLIF)
Treatment Options for Pediatric/Adolescent Spondylolysis and Spondylolisthesis
Vertebroplasty
Adolescent Scoliosis
Adult Degenerative Scoliosis
Adult Idiopathic Scoliosis
Adult Scoliosis Overview
Alternative Treatments to Back Pain
Arthritis
Back and Neck Pain Overview
Cauda Equina Syndrome
Causes of Back Pain
Cervical Myelopathy
Compression Fractures of the Spine
Congenital Scoliosis
Degenerative Disc Disease
Discitis
Facet Joint Arthritis
Foraminal Stenosis
Herniated Disc
Kyphosis
Lordosis
Low Back Pain in Athletes
Lumbar Radiculopathy and Sciatica
Myelopathy
Osteoporosis
Pediatric Idiopathic Scoliosis Overview
Pediatric Scoliosis Overview
Post-Laminectomy Syndrome
Radiculopathy
Sacroiliitis
Scoliosis
Scoliosis Overview
Spinal Anatomy
Spinal Stenosis
Spinal Tumors
Spondylolisthesis
The Degenerative Cascade
Vertebral Compression Fracture
An approach where the patient has an active role in their treatment and recovery process.
Learn more about how the OAM team is leading the research field with new treatments and techniques.