Tim Henne, MD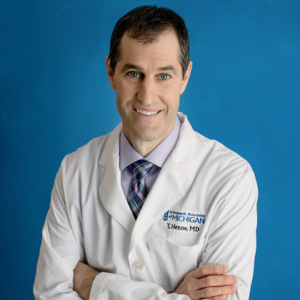 Dr. Henne says that the sports medicine fellowship he completed was a great year. It was a memorable experience to work with outstanding collegiate and professional athletes. It was also a priceless chance to focus on advanced arthroscopic reconstruction and rehabilitation of knee and shoulder injuries. Naturally, he learned a lot about techniques that speed recovery. He was excited because he realized that many of the techniques that applied to speed recovery could benefit common nonathletic injuries as well.
Part of the reason he elected to pursue fellowship training was because he wanted to improve his technical skill. The other part was because he wanted to bring this training back to Grand Rapids.
Dr. Henne is a faculty member at the Michigan State University residency program where he trained. During his residency, he had the opportunity to work with orthopedic practices in Grand Rapids. He remains impressed by his colleagues' expertise and dedication to their patients and is proud to be a part of this tradition.
Outside of orthopedics, Dr. Henne enjoys being a dad to his three kids and is married to a primary care physician. He enjoys sports, but notes "with each passing year, the athletes I treat are a little faster – and a littler younger – than I am!"
Specialties
Knee
Sports Medicine
Arthroscopy
Shoulder/Elbow
Joint Replacement
Background and Education
Born and raised in Charlevoix, MI
Undergraduate, University of Michigan, Ann Arbor, MI, 1994
MD, University of Michigan Medical School, Ann Arbor, MI, 1998
Orthopaedic Surgery Residency Program, Grand Rapids, MI, 1998–2003
Fellowship, Sports Medicine, Methodist Sports Medicine Center, Indianapolis, IN, 2004
Professional Affiliations
Michigan State Medical Society
Michigan Orthopaedic Society
Kent County Medical Society
Alpha Omega Alpha