David Rispler, MD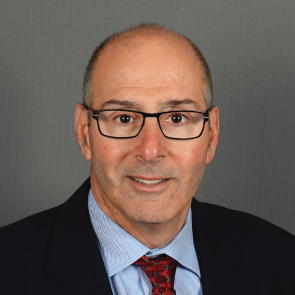 Dr. Rispler looks forward to evaluating and discussing treatment options for your orthopedic condition. During his orthopedic residency at the University of Chicago and fellowship at the Brigham and Women's Hospital, he had the privilege of working with three great surgeons and mentors. He learned from Dr. Bruce Reider, his college sports medicine physician and later one of his mentors in residency, how to look out for the patient's best interest. Later in his training, he worked with Dr. Mike Simon, the past chairman for the University of Chicago Orthopedic Department, who helped impart qualities of an excellent leader. He also worked with Dr. Clem Slege, a pioneer in joint replacement surgery who showed him that you can be a skilled and demanding physician but still be a true gentleman.
Over the years, his own personal health experiences and his experience with patients have helped him develop insight to how hard it is to navigate the health-care system. This has improved his ability to empathize with patients and their families. Dr. Rispler focuses his practice on nonsurgical consultation. This gives him the freedom to provide unbiased opinions whether someone may benefit from surgery or may benefit from a continued conservative care plan. When surgery is indicated, he has the knowledge to refer patients to the best surgeon qualified to handle their operation.
Dr. Rispler's interest in a medical career developed during his youth. He was also very active in all kinds of sports growing up, which further fueled his interest in the function of bones and joints. When not working, Dr. Rispler enjoys travel, golf, and activities with his wife and three children.
Background and Education
Undergraduate, University of Chicago, Chicago, IL, 1984
MD, University of Miami, Coral Gables, FL, 1988
Orthopedic Surgery Residency, University of Chicago Medical Center, Chicago, IL, 1988–1993
Fellowship, Joint Replacement, Harvard Medical School, Boston, MA, 1993–1994
Professional Affiliations
Board Certified, American Board of Orthopaedic Surgery, 1996, Recertified 2005