Dr. Thomas Hearty reflects on volunteer work with Vietnamese patients and orthopaedists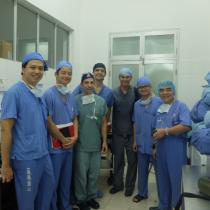 When Orthopaedic Associates of Michigan foot and ankle FellowThomas Hearty, MD, arrived in Vietnam in late May for a one-week humanitarian trip, he found a variety of medical problems not commonly seen in the United States. Fortunately, he also found dedicated young Vietnamese surgeons eager to learn new methods for treatment.
Dr. Hearty was one of nine members of the American Orthopaedic Foot & Ankle Society (AOFAS) , which organizes the annual Overseas Outreach Project to Vietnam.
With supplies donated by OAM , the AOFAS volunteers evaluated more than 247 individuals and performed surgery on 76 people, all at no cost to the patients.
"We provided orthopaedic consultation for some very complex lower extremity problems and handled surgical cases not normally done in Vietnam," Dr. Hearty said. "We taught the Vietnamese orthopaedic surgeons how to address complex deformities and injuries."
In addition to treating patients and training local physicians, AOFAS volunteers conducted seminars to share surgical advancements in the treatment of foot and ankle disease and deformity.
"We learned a tremendous amount from our hosts, in the process, and we had a great exchange of ideas and friendship," Dr. Hearty adds.